Breast screening
This service is available at:
KIMS Hospital
Our comprehensive breast screening services are designed to provide you with peace of mind for healthy breasts.
Breast screening, also known as a mammogram, is designed to help detect changes within your breasts early, usually before there are any signs or symptoms that you may be aware of. Early detection of changes within the breast means that if treatment is required, we can support you as soon as possible to give you the best chance of recovery.
If you are aged 40 or over, do not currently have any symptoms and have not had a breast cancer screening within the last 12 months, you can book a mammogram with no referral needed.
A supportive team of breast care specialists to provide the advice you need 
Your specialist breast care team are here to guide you through the breast screening process, will explain everything you should expect and support you throughout the procedure.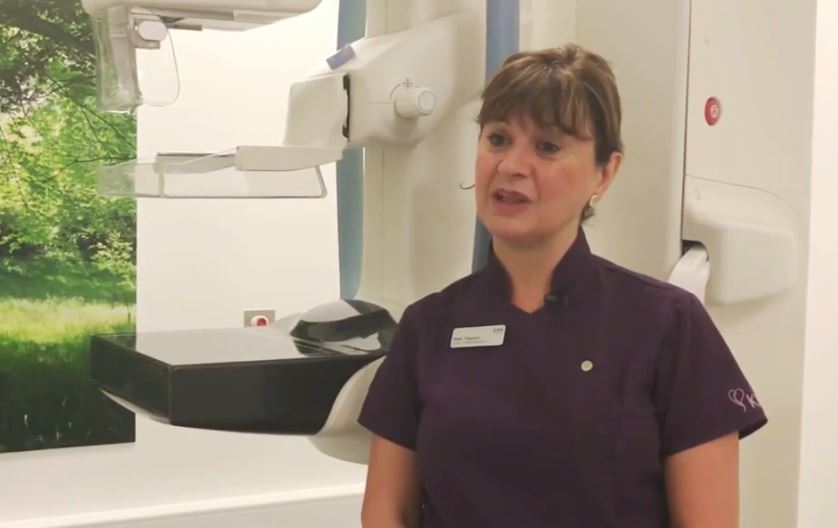 Breast Screening
Our Lead Mammographer, Nada Tappouni, guides you through what will happen at your breast screening appointment
Watch video
Why should I attend a breast screening (mammogram)?
Breast cancer is the second most common cancer in the UK, with around 12,000 women dying of the disease every year. The risk of developing breast cancer increases with age; lifestyle can also add to the risk, such as being overweight, drinking alcohol and smoking.
Although screening cannot prevent breast cancer, early detection of the disease through screening can increase the likelihood of survival as treatment can be given as soon as possible.
However, breast screening is voluntary. To help make the right decision for you, you may wish to discuss screening with your GP. It may help your decision to know some of the benefits and risks of screening.
Benefits:
Breast screening picks up over eight out of ten breast cancers in women over 50.
Regular screening is beneficial in identifying breast cancer early.
Most cancers identified by screening are at an early stage which can make treatment simpler and likely to be more successful.
If nothing is found during your screening it can be reassuring to know that your breasts are healthy and there is nothing to worry about.
Things to note:
Having the mammogram can be uncomfortable but our mammographers do their best to minimise this for you.
Sometimes, screening finds breast changes that wouldn't have caused you any problems if left untreated. Not all breast changes turn into breast cancer, which means you may end up having more treatment than you require.
A mammogram is a type of X-ray, so you will be exposed to a small amount of radiation during the scan, but this is not harmful.
Your results may be unclear, meaning you may be called back for more tests. This does not necessarily mean you have breast cancer, but understandably this might worry you.
Screening picks up most forms of breast cancer, but there is a small chance that some cancers may be missed or not show up.
When and where are the breast screening clinics held?
We have breast screening clinics at KIMS Hospital in Maidstone and at Sevenoaks Medical Centre.
Our clinics are held every:
Tuesday from 12:30-16:30
Friday from 18:00-20:00
Saturday from 08:00-11:00
What to expect from a mammogram
A mammogram is an X-ray machine designed specifically to take 2-D images of the breast. During a mammogram the breast is positioned between two flat plates on the machine which lightly press together. There may be some discomfort but our Mammographers do their best to minimise this.
Two X-rays will be taken of the breast and the images sent to a computer where the pictures are reviewed, and a report developed.
What if further treatment is needed?
96% of women will receive a normal result and no further investigations or screening will be required for the next 12 months at least. However, for approximately 4% of women, further tests may be required in order to give a definitive result. This does not mean that you have cancer and there can be several reasons as to why your mammogram is unclear – perhaps you were not in the correct position, you moved slightly as the image was taken, or an abnormality may be suspected on the mammogram.
If, for any reason, further investigation is required you will be contacted by our teams and given a date to attend one of our breast assessment clinics.
What is the breast assessment clinic?
We understand that waiting for a second appointment will be a worrying time, so we aim to invite you to our breast assessment clinics within one week of your first mammogram.
At the breast assessment clinic, you will have an opportunity to discuss your first mammogram results, before having a second mammogram. The image will be reviewed during your clinic appointment and discussed with you.
Attendance at the clinic and the second mammogram are included within the initial payment of £140 for your breast screening.
If further tests and scans are necessary after the second mammogram, for example an ultrasound and biopsy, your Consultant will discuss your options with you in detail. As these investigations are not included within the breast screening price, there will be an additional cost incurred. However, these will be discussed with you fully, and your agreement to continue confirmed, before any further treatment is carried out.
Make a general enquiry

Appointment enquiry
Our team are on hand to help answer any queries you might have about coming to KIMS Hospital. You can use the form below and one of our team will be in touch. Alternatively to speak to a member of our team, please call 01622 237 500.
If you would like to book an appointment, you can use the form below and one of our team will be in touch.
Alternatively to speak to a member of our team, please call 01622 237 500.